Date Posted: 9th Sep 2009 at

7:53 AM
I'm back from vacation (SIGH!

) and I'm here at MTS again

I'm currently reviewing and replying to the PMs I got while away.
Going on vacation, and then... who knows?
Date Posted: 6th Aug 2009 at

11:58 PM
I haven't been very active on the forum lately, as some may have noticed.

Fact is, the Sims3 didn't thrill me very much, but it was published anyway, and this made me see the Sims2 sort of outdated. So, I just took a break from the sims (also forced by my job that is very demanding in June and July).

Tomorrow I'm going on vacation, and will stay out of city until September 7th; when I'm back... I will see if I'm inclined to come back to the sims and to MTS

-

Best regards

-- Numenor
The long-awaited CEP update is here! :)
Date Posted: 15th May 2009 at

11:41 PM

NEWS and UPDATES to the CEP packages




15 MAY 2009 - CEP v.9.2.0 (Final update for AL + more 'stuff pack' objects)
This is the last major update of the CEP; of course, if users will find bugs, or will ask to include some objects that I may have left out, I will release a minor update.

Compared to previous v. 9.1, this update contains:
the latest version of the CEP Extra related to the Bohemian Architecture set by Havelock: now it includes the diagonals, and the ability to shift vertically all the straight and diagonal pieces (upper and lower ones);
23 new objects from Apartment Life (including the spell ingredients, the TV's, the trash chute and many others);
an update to the 4 skating rinks from Seasons (now the ground is recolourable, too);
the requested Judging Table from FreeTime; before you ask, NO, the ribbon can't be recoloured...;
5 new objects from Kitchen & Bathroom (requested by the users);
19 objects from the IKEA stuff pack, including the Expedit TV requested by Lord Darcy;
13 objects from Mansion & Garden (including a 'lost' recolour for the 'Freezer Bunny' sculpture);
fully updated documentation (both the CEP Object List and the CEP-Extra Documentation).
Plus, the installer now can check online for updates, and redirect the user to the official CEP thread (this one) if needed; this online check is optional and can deactivated.

------------------------------------------------------------------

I hope not to have forgotten any of the requests and suggestions people posted on the CEP thread; if I've left out something, please let me know (please post in the CEP thread, not here).
Date Posted: 9th May 2009 at

11:01 AM
The AnyGameStarter has been updated to v. 2.1.1.

Version 2.1.1 (9 May 2009)

BUGFIX: The "Replace" function didn't actually delete and replace the AnyGame1 any more (the bug was introduced with v. 2.1.0 and affected only the AnyGame1, while the AnyGames 2 and 3 were correctly replaced).
Date Posted: 30th Apr 2009 at

7:04 PM
New AGS version 2.1 is up!


WHAT'S NEW IN THE LATEST VERSION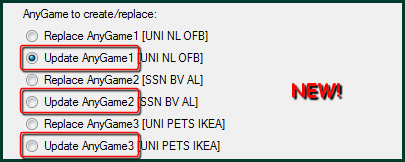 Version 2.1 (30 Apr 2009)

Introduced the ability to UPDATE existing AnyGames to a different EP configuration, without deleting and replacing the saved AnyGame (neighborhood, sims, downloads, etc.). The option is available only in Standard Mode (not in BGS mode), and only if the update is actually possible (see details in the "How to Use" and "Hints & Tips" sections).
Date Posted: 30th Apr 2009 at

2:51 PM
I've updated today the Scriptorium to version 2.2f.





LATEST NEWS - WHAT'S NEW IN THE LATEST VERSION

30 APR 2009 - Scriptorium v. 2.2f: BUGFIX + RADIANCE UPDATE.

Fixed a bug that left (harmless) M&G files after uninstallation.
Newest
Radiance 2.4 (by dDefender)
is now included in the installer.
Outdated and superseded Radiance v. 2.1, 2.2 and 2.3 have been removed from the installer.
Date Posted: 14th Apr 2009 at

9:13 PM
OK, my PC is up and working again



*off to moderate the upload queue and reply to the PMs...
Minor Earthquake in my Computer
Date Posted: 11th Apr 2009 at

10:34 PM
Older news...

I'm currently having some problems with my PC. I had to change the mainboard.
Well, this is not a great problem (it's annoying, but doable).
The real problem is that I should listen to other people's advice

- A lot of people had major problems trying to install Vista on a Raid0 disk array, but I wanted to try: my two Patriot solid-state disks were waiting to be mounted for too long!
Result: I lost the content of my main disk and I'm currently reinstalling Vista and ALL the applications from scratch. THIS is annoying!

Please be patient while I set up again the game and - most of all - SimPE; it won't take long, anyway: I can live without music, without Office, without anything, except the game (and related tools)

...

HAPPY EASTER TO EVERYONE!!!
Major Earthquake in Italy
Date Posted: 9th Apr 2009 at

10:28 AM
I want to thank all the people that wrote me, worried about the earthquake that recently hit the Abruzzo region in Italy.

Personally, I don't live in the hit area (I live at about 500 Km. from there), so I'm perfectly safe.
Nevertheless, I have some relatives there, because my mother was from Abruzzo; I have an aunt and uncle living in L'Aquila, and a cousin with three children. They don't live in the very center of the city, and their houses are quite recent, so they didn't suffer personal injuries; my aunt's house shows visible crack in the walls, but the main structure seems in good conditions; my cousin's house was not damaged at all. So, my aunt moved to my cousin's place, and my cousin moved to one of the many hotels on the coast, whose owners have so generously offered hospitality to the runaways.
The reason why my cousin decided to move is that her children are too frightened: the earth is still trambling very frequently and they don't feel safe to stay in the city. After all, all the schools are destroyed or seriously damaged (my cousin is a teacher), so there's nothing to do for them in the city.

I'm very happy that my relatives are safe and didn't suffer any major problem. Nevertheless, I'm terribly sorry for what happened: not only for the many people that died, or lost their relatives, or had their house torn down by the quake; but also because those are the place of my childhood: many of the places where I played with my cousin when we were kids, or the churches that we used to visit on Sundays don't exist any more, or are seriously demaged. Even the church where my parents married had its bell tower, and part of the roof, broken down.
I wonder what happened to the Mammoth skeleton (at the National Museum of L'Aquila), that always frightened me when I was a child

-

The only good news are that the Government was very quick in sending help to the hit areas; and the solidarity shown by everyone, in Italy and in the rest of the world, is astonishing. Even Madonna (the pop-star) donated 500,000 dollars, because her family was from Abruzzo



In case someone (living in Italy or abroad) is interested, there are many bank accounts that were set up to collect donations; personally, I preferred to donate directly to the local government of the Abruzzo Region. National and international bank transfers can be sent to:
- account owner: "Regione Abruzzo" (i.e. the Abruzzo local government)
- bank account international code: IT69L0300215300000410000000
- bank: "Unicredit Banca di Roma"
- reason for payment: "Regione Abruzzo - donazione per il sisma" (that means: "Abruzzo Region - donation for the earthquake").
Date Posted: 9th Apr 2009 at

9:28 AM
Some people noticed my "absence" from the forums and are asking about its reason. There's nothing to worry about.
I still gladly oblige to my moderation duties in the upload queue (I'm in charge of reviewing uploaded global mods, neighborhood decorations, modding tools and extracted Maxis stuff); I also reply to all my PM and email: so, if you need urgent help about something important, you know how to contact me


As for the forums themselves, I currently too lazy to spend time there...
Fact is, too often I realized that I don't play the game frequently enough to even know all its features, interactions and animations. For example, did you know that sims, with Apartment Life, can slide down the stair railings? I didn't. So, I started playing and... I didn't stop, yet

-

My current game is populated by a huge amount of "clones" of my self-sim


I started this experiment in order to test the correct DNA propagation when a sim is made pregnant with himself, and I ended up with a neighborhood full of Numenors

, each one with the same DNA, but with different hair, age, clothings. Each one has his own story (some graduated, some have a shop, some live in vacation areas, some live in the country raising cats...).
The relationship map of the family is becoming more and more complex, so I had to write it down, or soon I'd have forgotten who is who! For the curious, here is it the complet genealogy of the Modfather family:
[HTML]
Numenor Ghost
|
o---------------------------------+-----------------------------------o
| |
Numenor Sr. Numenor (ORIGINAL)
| |
o----------------+----------------o o----------------+----------------o
| | | |
Numenor III | Numenor IV Numenor V
| the Warlock
| |
| |
Numenor Jr.<=======================> Numenor VI
/ | \
o---------o o----------+----------o o-----------o
| | | |
Numenor Boy Numenor Septimus Numenor Mini Numenor Plantasim
| |
o------o-------o------+------o------o-----o |
| | | | | | | |
| N.Octavius | N.Caius | N.Caesar | Numenor Veggie
| | | | |
N.Claudius N.Mevius N.Julius N.Traianus |
|
Vegana
[/HTML]
The original Numenor Modfather is the one in the second line, on the right. Numenor Sr. has been cloned using SimPE; Numenor Ghost is the one released with the Simville neighborhood (he's one of the ghosts in the "Last Resort" graveyard): I used SimPE to rebuild the missing family links, setting him as father of Numenor and Numenor Sr.
All the other Numenors have been created in-game, using cheats in order to make them pregnant with themselves; occasionally, there was an inter-family breeding (hey, after all they all are the same sim...), or an induced transformation into a Plantsim.

And now... back to playing!