Date Posted: 5th Aug 2010 at

12:08 PM
Its a long story, but to cut it short - PC got stolen, had to wait for new one, old one can't run TS3. So I went back to TS2.....again.

Anyhoo, for me creating is playing, so I made a desk actually TWO - will put them up on LeeFish and/or MTS. Not sure.

Pic




Desks are mirrored and have three deco slots
New window and a bottle of beer!!
Date Posted: 18th Oct 2009 at

12:21 AM
Well, I NEARLY retired - I had lost all interest in sims3, no one seems to care about sims2 anymore...I love playing sims2, but mainly so I can make stuff. BUT - I dunno, I took a little holiday (a break from Sims really) and came back all inspired.

This is gonna be my next upload - a centralised version of the little round sash window from TS3. In my version the brick surround recolours (thanks to Q who believed I could) and I rather cheekily redid the EA original to match mine....




a bottle of beer will be included in the upload. Why? Because I'm celebrating!
Date Posted: 8th Oct 2009 at

10:52 PM
Well, I bought sims3. I installed it on my elderly laptop, and after a few weeks I noticed poor old lappy was not enjoying sims3 at all. My game is running slow, I can't build, I have my settings super low so the graphics look awful. Not fun. So no more sims3 for me until I get a new PC. Which means I have gone back to TS2. And gosh how I love that game, I think my heart will always belong to TS2.

Anyway, for me, playing is fiddling about with meshes and things so I can have my game look like I want it, and I always wanted to build a bookshop, but the book cases always looked so creepy. I spent the last week EMPTYING the billy bookcases from the IKEA set and then making deco books to fit (madness....) so I could get the look I wanted. The deco books are linked to plasticboxes amazing recolours - and well, see the pic. Is that cute or what?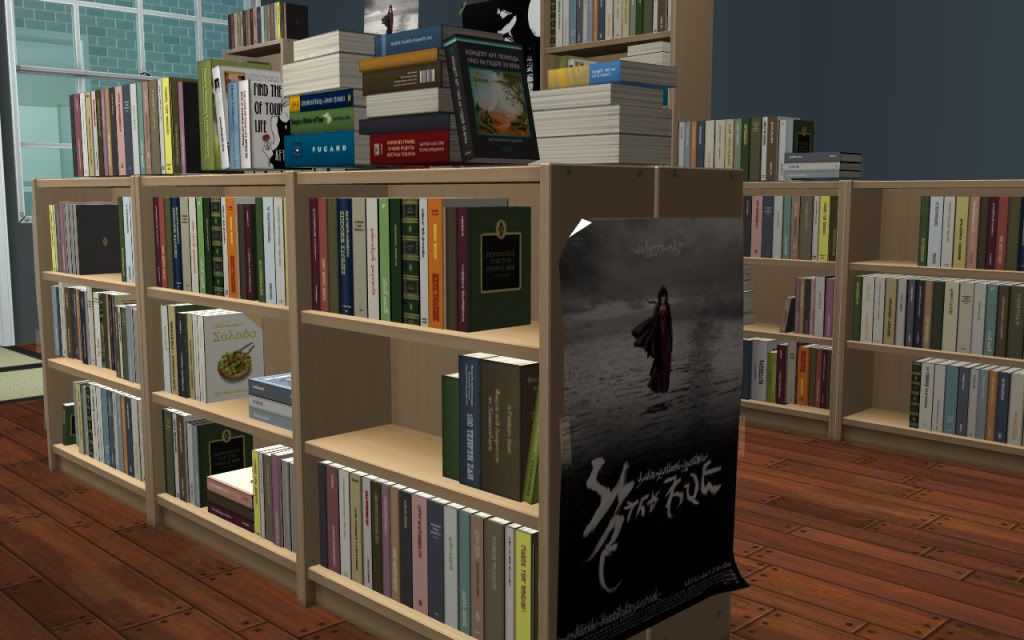 Yes I will upload these on MTS, some more fiddling to do yet.
---
Mood:
When I'm making Windows (ukelele not included)
Date Posted: 9th Aug 2009 at

10:59 PM
Well, what a week it has been. But I did it - I made a window for TS3 and I am so happy and proud. Here he is....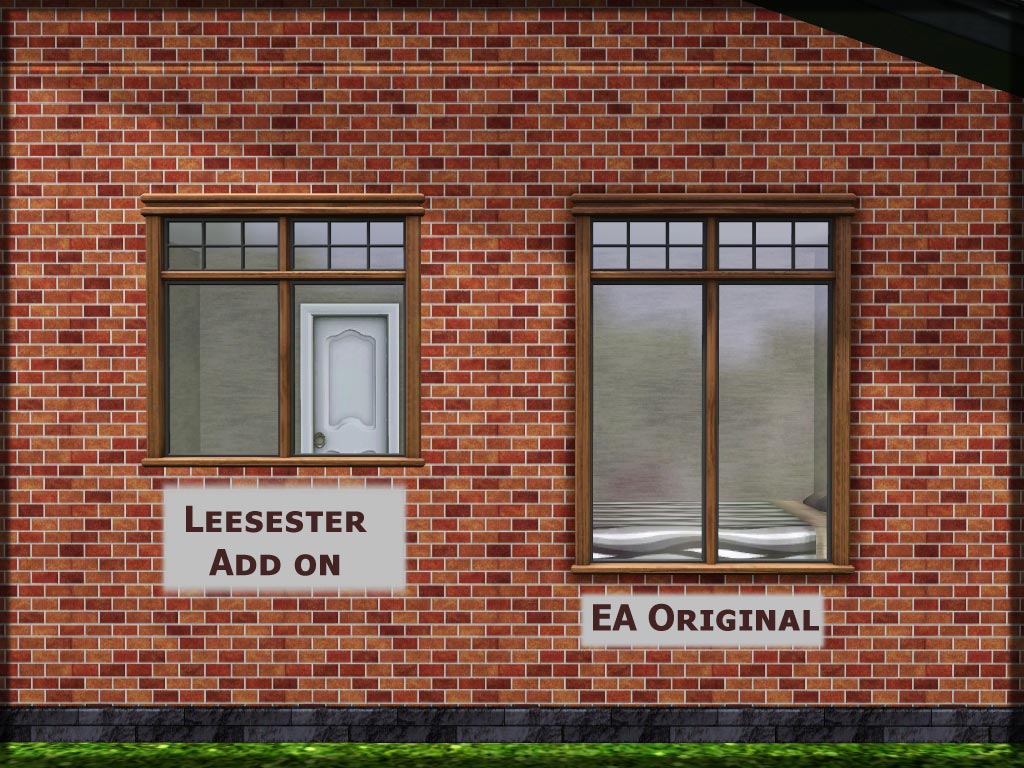 Date Posted: 27th Jun 2009 at

9:51 PM
Ulp, I am so excited.....the big 100,000 Downloads mark is here.....

I joined the site last July, and I have to admit I NEVER thought that I would be a creator, let alone so many downloads and nice comments. When I posted my first window I thought I would get MAYBE 100 downloads of that item, so I was stunned when I reached that number in the first 2 days.

And now, here I am; Featured, 100k of DLs, prize in the creator challenge. Its all a bit surprising as I am just an ordinary simmer. Anyway, I have met a lot of nice people and I really love this site and I never had a hobby before - its FUN. I will probably move to sims3 creation, but in the meantime, I will continue to be happy here, creating windows for sims2.

Thank you MTS!!
Date Posted: 9th May 2009 at

4:19 PM
Well, I bought the stuff pack, and I have to say I am quite disappointed with it. I see EA did try to make sets - but have not quite got the idea of what a set is to a player.
Also, a lot of the new stuff is NOT wellmade and would not have made it through the moderation queue IMO.

So, I made a start -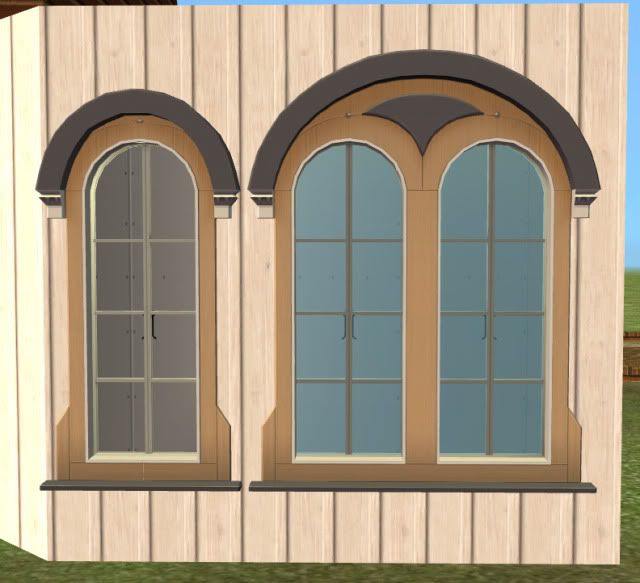 This window has a glitch - see if you can see it; it is because the original window has a glitch too..... I will work on a set of these.
Animated windows (sort of)
Date Posted: 19th Apr 2009 at

7:23 PM
I was attempting to build a warehouse for my game - and I wanted some nice windows. I was going to make an open set and a closed set of privacy sized windows to fit the style of the AL Gearhead windows.

But then I looked at my build catalog and thought, meh, so many custom windows make stuff hard to find.

So I made a sort of animated window - has two states; open and closed and goes via a piemenu. Check out the video link below, and watch the little window......It opens and closes - you can make it stay in either state. Click on the pic below and see the window in action!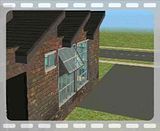 Will be uploading end of this week I hope.
Date Posted: 20th Mar 2009 at

3:07 PM
Well, I have been working on this forever; it is a train station, set in the 1930's - 1940's. It is a community lot and is nearly finished - the biggest pieces of custom content are the clock from on the site and special train tracks I made.
The lot has a cafe, restaurant, bar (poker and darts) many toilets and seats and a newspaper kiosk.

Here it is - Simton station, circa 1938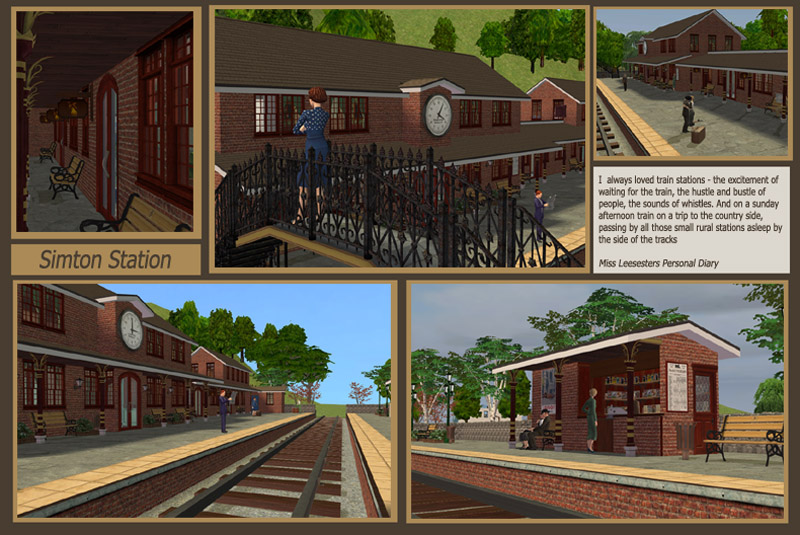 I am working on a few more bits of custom content, but it is practically finished

EDIT: is now uploaded, and is one of my Personal picks because I LOVE this lot.
---
Mood:
Missing File - please help?
Date Posted: 15th Mar 2009 at

12:54 AM
Hi

well, as a fairly new creator everything I had uploaded was gone from MTS2 after the crash. I had 80% of the files still, and I got 3 back from some very helpful people, thank you, but I am missing 1 file.

Does anybody have a non played in (ie sat in the lot bin, or even better the rar file) version of my Blue Cottage?

It is this thread http://www.modthesims2.com/download.php?t=308649

Maybe not the greatest house in the world, but I would be sad to lose it. If you have it, please can you attach the file to the post incomments and I will reupload.

While here, I would just like to say how amazed and impressed I am that so many people have stepped forward to help after the crash. It certainly refutes the claims that the sims2 community is bitchy, which is something I have never seen, and just convinces me more to stay around and create stuff, maybe even for sims3 - who knows?
---
Mood:
Date Posted: 1st Feb 2009 at

2:27 PM
Well, I started a new job in January, and it is going well, still got a lot to learn, but I am getting back into creating - but now as part of a group. I joined the simnation modding collective and so I am busy with the group projects right now.

I still have a few bits of unfinished business of my own though - here's a list of my current projects;

Monticello door - 90% done
Socialite set from AL - 50% done, I have one half of the windows completed
Smitty classy expansion from AL - only 1 door and 1 window so far.

I think the socialite set will be finished first.
---
Mood: