Decorative Bag and Decorative Sack: Additional Surface Recolours
Date Posted: 27th Aug 2016 at

7:38 PM

Deco Bag & Deco Sack, with Recolours

There were six surface recolours that were listed in this project's text and included in the uploaded archive that were not supplied with a screenshot. I have now included these six recolours in a new picture, shown here and in the original post. Ironically, I consider these the best quality and most useful recolours in the set.

David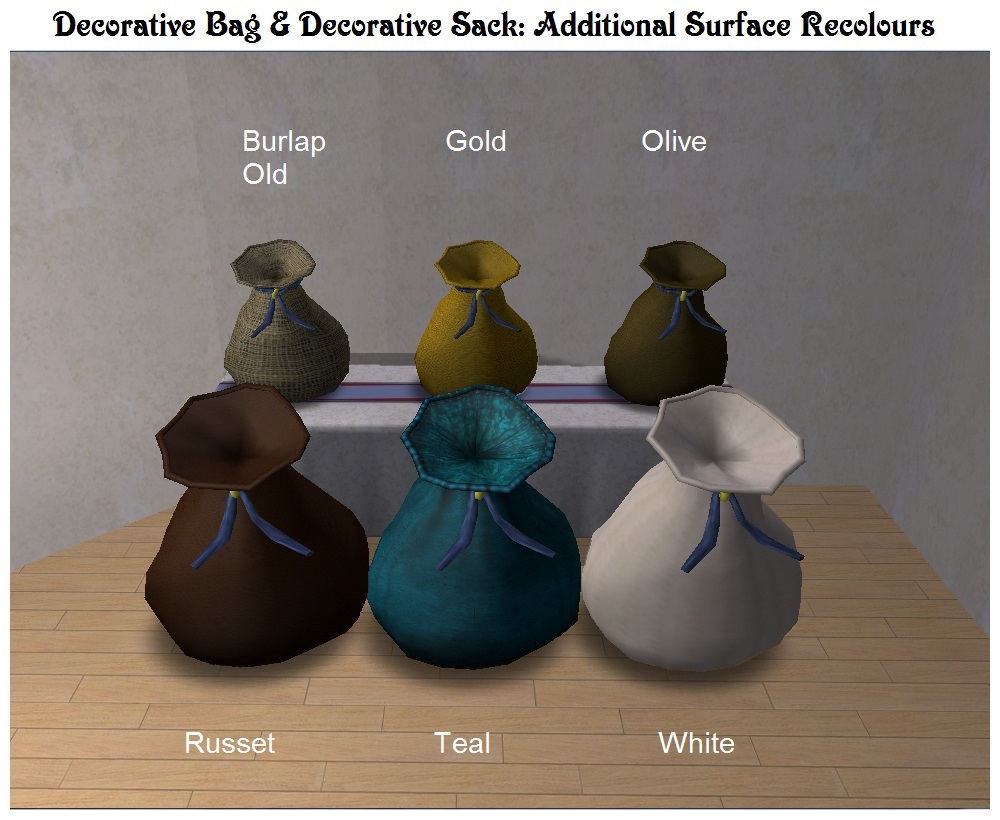 BUGFIX August 25, 2016: Changed Two Conflicting Filenames
Date Posted: 26th Aug 2016 at

5:46 PM
64 HiRes Wood Basegame Vase Collection Recolours

BUGFIX August 25, 2016: Changed Two Conflicting Filenames

The filenames for the Red Oak and Santa Maria recolours were the same as those released in the Tiny Filesize Basegame Vase Collection, therefore they would overwrite them. This release differentiates the new filenames by adding a "2" at the end, i.e. sdSculptureVaseCollectionBG_vase_RedOak2 and sdSculptureVaseCollectionBG_vase_SantaMaria2, so as to remove the conflict.

Please download sdSculptureVaseCollectionBG_vase_HiResNaturalWood for the update.


Updates: Skill Building Books and Mics
Date Posted: 9th Aug 2016 at

5:10 AM
I am currently enjoying the creation of a set of crystal balls, each dedicated to raising a different Life Skill, and each with one or two holders or stands. The first to be released is Lady Valentina's Crystal Ball, in which the Nightlife and FreeTime Fortune Teller teaches Couples Counseling as she practices her divination.

The screenshot below shows a newly inducted townie warlock in the order of neutral magic, recruited to teach at The Orb of Clarity.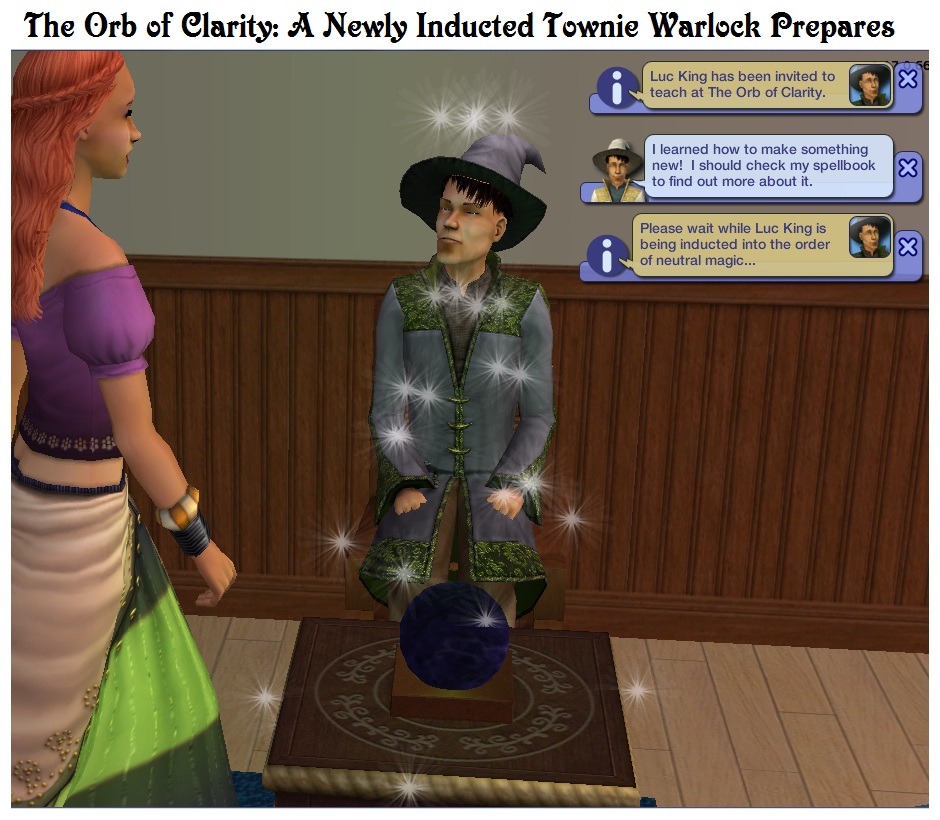 Medievalish Downloads *** CLOSED TO COMMENT ***
Date Posted: 5th Aug 2016 at

4:57 AM
Some members of the community have been puzzled as to what happened to my uploads at Plumb Bob Keep (PBK). It is a odd story but it can be told in just a few words. I will also outline my progress and plans towards re-posting them here at MTS.

Two members at PBK had suggested that a thread had become non-productive, with one member saying, "Enough already. Its getting too freakin toxic". I quoted both members and added, "It looks like the same thing has just been said twice. This thread was toxic to begin with." It would appear that this statement alone must have caused me to be banned from the site, although I can only guess since I was not informed. This occurrence seems all the more strange in that a little later the site owner completely deleted the whole thread in question - was it indeed too toxic? In any event, for whatever reason the owner later removed all my content threads from PBK as well, a site-destructive response that just does not make any sense to me.

As a consequence of making this simple statement, StephSim and myself were obliged to respond to persistent, rude and fallacious attacks from a PBK member, all of which have been archived. A senior moderator has now removed all replies to this journal entry, and I agree with this course of action. These issues will be dealt with elsewhere. Please consider this article as *** CLOSED TO COMMENT ***. Any further comments will be summarily deleted.

I have already uploaded the following PBK content to MTS:

The FreeTime "Broken-In" Desk Pooklet Expansion Set - originally part of the Merchant Guild set, these recolours were posted here at MTS without change.

The Sims 2 Opportunity Pack Lectern & Accessories - the "Worshipful Company" Fourth Element Tapestries from the Merchant Guild project were included in this thread without change.

Ye Olde Cooper's Muck for the Masses - re-posted without change.

A Trash Pit for All Seasons, with Effects & Recolours - significantly upgraded from the PBK version, if you liked the original please do download the new version.

Basegame Neighbourhood Volcanoes, with Effects & Tunnels - very slightly changed to give more descriptive catalogue entries. Probably not worth downloading a second time.

Ye Olde Cooper's Food Contents Recolours - these items were part of the Merchant Guild set. The non-HiRes grapes and rice recolours have been noticeably improved, so it is worth getting the update.

Deco Bag & Deco Sack, with Recolours - re-posted without change. These were also part of the Merchant Guild set.

The most significant content that remains to be re-posted are the core files from the Merchant Guild which allow Sims to buy and sell food from barrels and sacks, allowing merchants to make a living through trade. I significantly upgraded this set shortly after the original post so that it would also support trade in harvestable crops and fish, as well as theft, donation, vandalism and blessing of food stocks. This upgrade was never quite finished, but it will be a future priority.

There were also several new or updated barrel items in the Merchant Guild set that will be re-posted when I overhaul the original Ye Olde Cooper set - which is long overdue.

Finally, Ye Olde Cooper's Grapes for Stomping is left as a low priority item for now because I feel that it was a prototype that needs to be fully reworked.

Thank you for you patience during this transition, and for all the wonderful support I have received, both at PBK and MTS.

FreeTime Broken-In Desk Recolours
BUGFIXES April 14, 2015: Wishing Wells
Date Posted: 15th Apr 2015 at

7:37 PM
BUGFIXES April 14, 2015:



When I designed these projects I included some international language support. Unfortunately, non-English language users experienced incorrect labeling and erratic menu operation because of this. My appreciation goes to Alraris for alerting me to these issues. These releases are intentionally unilingual, reducing filesizes by up to 50%, which is of benefit to all users.
The Perfectly Natural Pet Bed
Date Posted: 29th Dec 2014 at

12:04 AM
The Perfectly Natural Pet Bed provides a naturalistic outdoor pet bed and comes with a variety of recolours.

ETA: On December 31st the pet bed was updated to support toddler use also.
BUGFIX: Dec. 23/14 - Trashamatic Garbage Disposal and Dishwasher
Date Posted: 24th Dec 2014 at

4:45 AM
BUGFIX: December 23, 2014

Thanks to liebesa's bug report, this release prevents the Trashamatics from being knocked over. They were not designed to be knocked over, and if they were knocked over there was no way to set them upright again. All five models of Trashamatic have been fixed.
Four Invisible Discernment Mirrors for the Sims 2 and Castaway Stories
Date Posted: 14th Nov 2014 at

4:33 AM
BUGFIX: November 13, 2014

This release fixes a critical problem that caused the game to crash to the desktop if a Luxury Mirror was placed on a lot and the Expensive Mirror was not also present in a Downloads folder. Please be sure update your files with this release. My thanks (and apologies) to StephSim for discovering this destructive error. The Luxury Mirror description is marked "Release 2" to identify this update.