Date Posted: 19th Aug 2014 at

7:15 AM
new texture for HappySim's mesh, with buttons, coming soon

UPLOADED




.
graphic empire waist tank
Date Posted: 15th Aug 2014 at

10:14 PM
Making progress on one of the graphic empire waist tanks. Base texture done, needs seams and folds shading, bump mapping, maybe a fabric overlay, then done! Then I just want to make the 3 or 4 or 28 other tank styles I have planned... Lots of tanks and tunics in the works on various meshes, stay tuned!




.
Date Posted: 14th Aug 2014 at

10:15 PM
Finally getting back to the tanks and tunics project. Here's one of them in the very early stages. Not as long as the real life version, but will have a similar graphic pattern.




.
Capri Clogs for Teens and Elders Too
Date Posted: 10th Aug 2014 at

5:58 AM
Finally finished the age conversions. Had a hell of a time getting the shoe texture to show up properly on the age converted meshes. Followed the correct procedure but think some EA meshes are borked as start points when adding groups. :/ Works now.

Time to take in game pics and then upload!

UPLOADED




.
Date Posted: 6th Aug 2014 at

9:17 PM
Capris with clogs. Or maybe mules. Will be for adults, YAs, teens, and elders. I keep meaning to make tanks and tunics but want more bottoms to pair with them first. Need to add morphs, age convert, test in game.

UPLOADED




.
Date Posted: 17th Jul 2014 at

6:21 AM
UPLOADED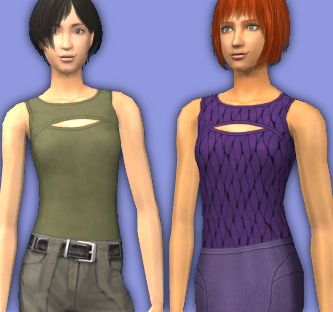 Made progress on the window cutout tank. Calling it that unless someone suggests something better. Base texture is done, adding colors.




.
Date Posted: 15th Jul 2014 at

5:52 PM
skirts uploaded


Took a bit longer because I wanted to make sure they looked okay while the sim walked. I had cut the texture on the legs too short and needed to fix it. This is why you test with your first texture, not after you've made sixteen. I knew that, just forgot.

.
Wrap Skirts and Cutout Tank WIP
Date Posted: 12th Jul 2014 at

6:54 AM
The wrap skirts are done! Just need to take in game pictures, then upload.
New project in the works, a cutout tank. Anyone know a proper name for it?

What is this called and anyone make something similar?

16 Wrap Skirts

.
Date Posted: 9th Jul 2014 at

5:55 AM
The wrap skirt texture is almost done. Colors coming soon. Had to edit the mesh due to an alpha conflict with alpha tops. Tried adjusting the alpha ordering so the bottom was lower but that didn't work, probably since Sims wants to draw bottoms over tops.




.
Date Posted: 4th Jul 2014 at

1:34 AM
new project: color block wrap skirt on Trapping's mesh (conversion of my teen mesh with changed shoes)
just started the rough outline so far




.