Date Posted: 21st Mar 2015 at

9:24 PM
I plan to make lots of tunics (eventually) so I've made a leggings mesh with 15 different shoes. Tunics and leggings, like peanut butter and jelly. Black leggings, grey leggings, with black shoes and brown shoes each. The ridiculously large set will be uploaded soon...ish. Meanwhile, so I don't lose track when my cat inevitably crashes my browser and all my tabs disappear, here are other folks fantastic leggings. Of course I knew people must have made these before, probably several times, but I didn't find the DAMN LIST OF TS2 LEGGINGS until AFTER I made 15 meshes. IF YOU KNOW OF OTHERS, PLEASE TELL ME.

BIG DAMN LIST OF TS2 LEGGINGS that I didn't see until AFTER making 15 meshes AAAARGH!!!

Skeleton Tea's 3t2 adorable ankle bootie



chalkmetal's leggings ( dark_moon added MORPHS, yay )
http://chalkmetal.livejournal.com/34252.html
http://chalkmetal.livejournal.com/34611.html
http://chalkmetal.livejournal.com/36047.html
http://chalkmetal.livejournal.com/37926.html
http://chalkmetal.livejournal.com/39715.html
http://chalkmetal.livejournal.com/45573.html



http://www.digitalperversion.net/ga...06878#msg506878 the first DL link
http://digitalperversion.net/garden...77992#msg677992
http://rented-space.tumblr.com/post...ng-for-top-only Gwenke and pixicat
http://rented-space.tumblr.com/post...eezy-down-there Sentate military boots
http://sanneke94.tumblr.com/post/64...ownload-this-is Sentate military boots again
http://cynicocratical.livejournal.com/15854.html

skellington leggings

Sentate's Cassandra collection
Sentate's winter lookbook
Ludovic recolors of Sentate mesh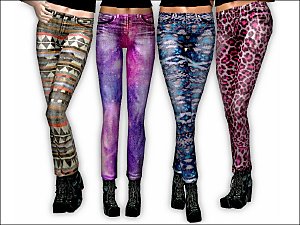 http://sanneke94.tumblr.com/post/38...load-this-is-my Sentate Emma boot (as above), no jeans

http://rozeemaysims.tumblr.com/post...rs-gift-part-2b Sanneke's converse hightops
http://thatonegirlonthecomputer.tum...rs-gift-part-2a Sanneke's bunhead peeptoes
http://rozeemaysims.tumblr.com/post...part-2-download Sanneke's Elexis boot (and for teens)

Figs ??? children's legging


Tiggerypum Ugg boots jean not leggings but can repaint
keoni Uggs on leggings, adult and teen

Skeleton Tea made pantless bottoms with Amaryll 3t2 boots

Valenki boots recolors
Date Posted: 13th Mar 2015 at

6:15 AM
Just need in game pics and I'll upload this top. UPLOADED
Alpha mesh with sleeves. Eight Twelve colors.
EDIT: Decided to lower the contrast and desaturate some of the brights a bit. Adding four colors...




.
Blue Drape Top Nearly Done
Date Posted: 12th Mar 2015 at

11:09 PM
Almost finished the blue drape top. If I like the shading in game, I'll start making the other colors. Still need a bump map. Then in game pics. Then upload. Might finish during spring break, don't have to teach, and baby is in daycare part of the day! I can actually sim!




.
Belted Drape coming along slowly
Date Posted: 2nd Mar 2015 at

6:13 AM
Been working on the belted drape top very slowly because baby.

Also been making a redonkulous number of leggings. I think I'm satisfied with the basic shape of it now. Needs a whole lot of shading! Edges need to look more like drapey folds. Might finish this year? XD




.
Date Posted: 22nd Nov 2014 at

11:36 PM
New Project: belted drape top

Just started blocking this out. Will probably make it longer to better match the idea photo.




.
Other Folks Textures on my Alpha Mesh
Date Posted: 19th Nov 2014 at

8:43 PM
Here are some tops I'll be uploading this week, soon as I get the preg morph to behave. I will add a variety of alpha sleeves to this alpha mesh later. Also have another mesh with a looser tunic. It will have various sleeves as well, but I'm still tweaking that mesh. So many texturing ideas, so very, very little time. I love baby and my job but I do miss my cc'ing time. One day, will teach baby to make cc for The Sims 9 maybe?

UPLOADED




.
Date Posted: 1st Nov 2014 at

12:54 AM
Working on a series of tanks and tunics, with and without sleeves. Here's a four corner hem tunic. I keep tweaking the mesh. Making it longer, adjusting the normals for a smoother appearance, changing the UV map as I find small distortions. Still need to test it in game. What looks good in MilkShape can look terrible on a sim standing with her toes slightly angled out due to leg weights in the tunic. Slowly hand painting a texture. It may end up with embroidery on it, we'll see. Might leave it plain. Maybe both? Wouldn't give up my snuggly baby for the world, but he does change my priorities and simming gets pushed down the list. Expect these shirts at some point. This year. Maybe. Lots more planned, but will I find time? We'll see.



.
Button Capris almost done
Date Posted: 31st Aug 2014 at

8:17 PM
I'm always too hesitant and timid with shading. End up having to add more highlights and shadows. That's why the button capris aren't up yet, but I think I'm finally satisfied with my first texture. Now to add a few more colors. Just a few. Not 37! Must restrain self.

Then upload!

UPLOADED




.
Users Viewing This Journal: 1 (0 members and 1 guests)