List of projects I want to -eventually maybe- get around to..
Date Posted: 17th Apr 2010 at

7:12 PM
Ok, so its been almost a year since my last journal entry, that's probably too long. In my defense I haven't been able to do much with Sims for a while. I've been busy with school and co-op (internship). I've just started another quarter at school. I've got a very light credit load this quarter so maybe I'll find time to do more projects for you all. Lately though I've just been playing. Alexander Goth is about to get married, he has the entire town in a buzz about it.

I've had this list sticky noted to my desktop for the better part of two years now and I'm tired of staring at it.

Sharpen Teen Undies
Service Pack 2
Toddler Ducky Swimsuits
tf Boyshort Suits
TShirt and Socks PJs af tf

Swings
Shelving Set
Functionality to Book Stacks, Chalkboard, Toys
Window Mirrors
Hanging Verticle Holiday Mall Lights no
Stackable Chairs
Windchimes
Update Buy Catalog (include accessories)
Bauhaus Project
Windmills: original, lattice, pinwheel, large dutch sails, large spanish sails, water wheel, farm, gears
Phone book

Custom Window Walls, normal and attic
Basement Walls
Corner Stairs Object
Smaller Driveways/garage doors
Clear Windows, Frosted, Broken, Empty, Mirrored

If anyone sees anything that looks interesting ask me about it, if you want to see it done, let me know. I might pick the project back up for you.
Date Posted: 28th Jun 2009 at

6:09 AM
School is out and I'm cleaning out my closet, er, laptop. I'm finding all these great half finished projects in addition to my current half finished projects. I figured I'd post a picture of the progress on them and let you decide which ones I try darn hard to actually finish.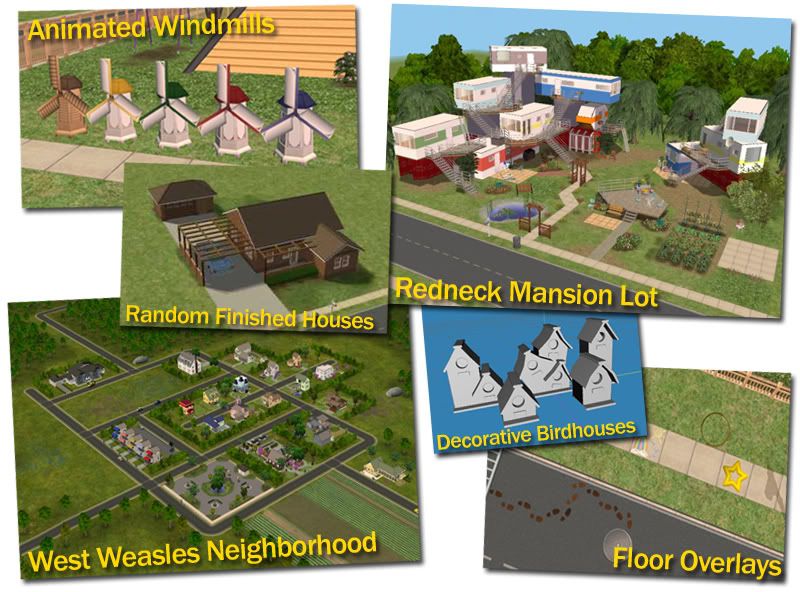 Animated Windmills - I need this project finished for my Redneck Mansion project, but I don't have to have it as extensively finished as I had planned. These windmills are animated (the blades turn depending on the amount of wind in game) Other than that, they are decorative. I believe I did get them to be basegame.

Redneck Mansion - This lot is to be an exact replica of the really cool online picture by the same name. (Try googling it) I have one major issue left with it, but I think I might have a work around for it now. That and getting a proper windmill to sit atop the left most trailer's roof. Requires Pets Only.

Random Finished Houses/Lots - Throughout all my games I have many different lots that are randomly built and furnished. Some I had intended to upload, others I just liked and then thought it might be nice to share. I've got quite a few of them (at least five off the top of my head) but I can't promise they've been created in minimal EP environments though.

West Weasels Neighborhood - I have been wanting to create a full hood for some time now. My ex and I were out driving trying to find a road when he exclaimed "how the f*ck can you even see those street signs, it could be f*cking West Weasels for all I know." Right then and there I knew I had to make a hood called West Weasels. The idea behind it is that this is the town were all the Fairytale creatures come home from work to hang out and relax. Particularly the 'bad' ones. They aren't bad creatures, its just their day job. Most of the buildings are storybook cottages, slight victorian architecture, or otherwise small rural home town feel. I've only got a couple of lots left two do, but they are the big ones. Two of the houses pictured are still unfurnished. I dread taking the pictures and uploading the darn thing.

Decorative Birdhouses - nothing much special here, they are just cute as all get out. Canoodle mentioned a want for decorative birdhouse and I got right on it. Unfortunately most of the meshes of these are done in such a terrible why I couldn't apply a patterned texture to them at all. They have to be remeshed.

Floor Overlays - #create, mostly Leesester, requested to have floor overlays similar to Pixelhate's wall overlays. Then we could have dirty floors, leaves, ants marching, footprints, drains, gutters, and all manner of things. I got together with Pix and he did some fantastic textures for my simple mesh. I need to make up a couple more meshes and then redo most of my textures (we changed the mesh and mine sucked to begin with, Pix's are amazing.)

So, those are the most current dropped by the wayside projects. Let me know what interests you the most and maybe a change of pace will get me to finish something.
Date Posted: 27th Mar 2009 at

5:10 AM



I don't have much planned for my birthday. This is the friday of Spring Break so you'd think I'd be having an awesome time, but I went back home and all my old high school friends are away at college and don't have the same spring break schedule I do, so I'm pretty much alone.

My dad and I are planning to go see a movie and later I'll prolly go hit up the local bars and see what happens.

The best part of my birthday? I'm getting a TABLET!!!!
What's up with Phae Lately
Date Posted: 27th Feb 2009 at

5:45 PM
It's probably time for me to stick a new journal entry up here, since the last one is from almost 4 months ago...

I've been busy with school work. I'm in school for product design and we've been doing a lot with Alias. Its a really powerful 3D modeling program and I've just learned how to transform the models from wire frames into meshes. Can anyone guess what that means? It means I can take all the sweet stuff I've been doing for school and possibly bring it into the sims. I might actually be able to churn out my own meshes!

I'm really excited about old furniture design we are learning about. In particular the Bauhaus movement and also 50's furniture. Mies van der Rohe, Charles and Ray Eames, Eero Saarinen, among others. I'd love to be able to models some of their work and bring it to my simmies! Well, got to get to class!
Making Medieval Veronaville: Post 5
Date Posted: 12th Nov 2008 at

12:29 AM


Update:
It's been a while but I've done some more work in my Medieval Hood. I've added Nightlife to my game setup so I could use Hexameter's awesome vehicles. I also included Apartment Life because a)witches are SO medieval material and b)apartments make things pretty easy living arrangements for serf and gypsys. I created a terrain that is 'downstream' from Veronaville, my Fae Forest. I plan to move Tatiana and Oberonthere after Puck is old enough to marry his sweetheart. They will leave him their estate and go back to the forest. Tatiana and Oberon will remain engaged but never marry. From what I remember of the play they were lovers that enjoyed toying with each other, so I think it will work out nicely having them live on separate lots. Tatiana will gather herself faery servants and Oberon will take up with the satyrs. I haven't decided what to do with Bottom yet, maybe she will stay in the house, maybe move in with Tatiana.

The rest of the Forest will be inhabited with other creatures. I'm going to introduce satyrs, plantsims, elves, witches, and trolls. On the other side of the river will be a small town with a gypsy camp and a Midwife (good witch!). High up above the town I'll be raising a few vampires to add to the Fear of the Forest. I'm having fun with this sub-hood.

My three MacBeth witches are named Hecate, Graymalkin, and Paddock. I realize those aren't the real names, but Shakespeare didn't give his three witches names. These are the closest things to it. I believe they were their pets names. Their lovely green skintone is of my doing. They are wearing many of Sherahbim's gorgeous dresses. My troll, Gruff, is living under a bridge. I've used Mootilda's LotAdjuster program to let him have both sides of his bridge. I'm not entirely happy with how I have his lot set up, so I might be doing more work with that, but he is definitely a part of my hood now.

Back to Medieval Post 4 ->
i can has Guestbook noaz?
Date Posted: 12th Nov 2008 at

12:12 AM
Got a request? Wanna drop me a line? Leave me a note!
Thanks for stopping by! -Phae

MTS Yearbook * 2013 * 2012 * 2011 * 2010 * 2009 *
Bahamas or Bust: Come Hell, High Waters, or Hurricane Hanna!
Date Posted: 7th Sep 2008 at

5:08 AM
Anybody wondering where I've been the last week-ish or so? Well this last week my boyfriend took me down to Miami for a cruise to the Bahamas! No we didn't get killed by Gustov or Hanna or Ike or Josephine. We ran into a little weather DRIVING down there (btw, we live in OHIO, yeah. Never doing that again,

[email protected]

$$ drive.) The weather was nice, but the waves were bad. We got trounced pretty badly by the ones in Nassau, that was a few days ago and I'm still finding sand in places I didn't know I had. I got sunburnt pretty badly too, but all in all it was a good vacation. I enjoyed getting all dressed up for dinner each night and going to the shows on the ship. One night there was a Motown singer and he had people come to the stage to sing with him and my boyfriend went down and got to sing the chorus from 'My Girl'. He sang it well and pointed right at me out in the audience that everyone turned and looked. It made me feel really special. After that we were kinda famous and everyone told him that they saw him singing and he did such a good job. I love my boyfriend!

Prior to that I was still working on renovating my parents house but the week that they moved out they took the internet with them so I was stranded from the web, it was tough, but I managed. I have one more week before I go back to school. I'm pretty sure I'll be rather busy with packing, finishing what I can on the house, and setting up my *NEW* laptop! Things are a bit hectic for me right now, but I promise I'll be back to creating and updating regularly once I get back in the swing of school (late Sept). That's it for now, I have to get some sleep. Tomorrow I'm going to my cousin's wedding!
1 Year of Phae Creations!!!!
Date Posted: 18th Jul 2008 at

8:26 AM
Today is exactly one year after my very first upload! I guess that means its my creator birthday? Anyways, I'm celebrating it with my 100th upload (also an achievement to be celebrated)! If when I started out someone told me that I would learn everything I have, be able to do all that I can do now, be Featured AND hired on as Staff within a year I probably would have choked to death laughing at the possibility. Yet here I am standing tall and proud of my achievements. I hope that I've been an inspiration to others to learn how to create things for themselves and hopefully get up the confidence to create and post for the benefit of others.

Yay for Phae! Yay for MTS2! and Yay for CREATIVITY and INGENUITY!
Date Posted: 2nd Jun 2008 at

4:12 PM
Holy snikies! They made me a Mod! I'm Green! I has a hat now! EEEEE!!!!!!!!!

On another front, my school projects are kicking my butt, and I'll be moving home shortly, so life went quickly from being boring to being way too busy. We'll see how well I juggle it all. I love the chaos!
Making Medieval Veronaville: Post 4
Date Posted: 15th May 2008 at

12:43 AM

Update:
I've added Peasants! I originally was only going to add 3 serf families and a carpenter, but one of my serf families turned out to be perfect as tailors. The first family pictured is the Haysons, mom Hadriana and son Anton. Dad tragically died in a plague of flies as did all of the other relatives in all the families, no 'mystery sim' business for me! Next is the Barley's, grandad Jessup, mom Kadith, dad Eamon, son Caemon, daughter Kaea. The middle family is the Wheatly's, grandad Cliff, dad John, and son Paul. The next family was the one that shouted seamstress to me, so the Webbers are sisters, Evelyn and her daughter Selina, and Audrey and her teen daughter Ava and son Teagan. The last picture is hottie Matteo Woods, my carpenter. To create these sims I first did some random number generating to determine how many were in the family, their genders, their ages, their aspirations, and their zodiac sign. Then following those numbers I hit the random sim button in CAS until I had a half-decent looking sim. For the children I hit the Pacifier. I want genetically correct sims dag-nabbit! Also, PLEASE don't ask me where I got stuff, almost everything I pick up I got from MTS2. Do a bit of searching here and I'm sure you will find it too.

Now, for the interesting part about these families. I have only 3 women of childbearing age, and 2 of them are ROMANCE! Kadith is Romance and her husband is Family, and the other lady is Audrey. Grandad Cliffe Wheatly is also Romance and so is Kadith's teenage son Caemon. And of course Romeo is also Romance. I've never had so many of this aspiration to deal with! I haven't even opened up the brothel yet! GAH! I hope Eamon dies of the plague soon so Kadith can be the town Lady. Everyone who walks past her seems to think she is hott.

The Montys have bought and started up the Farm. So far we have planted a lot of tomatoes. Thanks to a still-in-testing mod Patrizio was able to stay all day at the Farm and when I was done playing him there, I returned home, played the rest of the family and he came home at the time he left the farm. Community Time is kinda sweet.

Back to the technical stuff. I've downloaded Risky Woohoo and Hide Try for Baby to simulate the lack of birth control. : thinks about all those Romance sims, shudders : And I have been given permission from the original creator of the country roads mod to upload my version so when I get the terrain paint that matches done you can expect that from me. I have not had too much luck getting the UI edit to work correctly, I have gotten it to work if your AnyGame happens to not be in US English, but thats not really what I was going for. I don't have much more for you because I went camping (medieval style!) over the weekend so I wasn't simming. Yes, I'm a geek and I'm in the SCA, but if you think its fun to play medieval sims, its way more fun to play medieval yourself!

<- Forward to Medieval Post 5
Back to Medieval Post 3 ->