Date Posted: 12th Apr 2008 at

10:02 PM
Well a LOT is changing in my life right now including my name here on MTS2 , in case ya havent noticed it is no longer tigdadx4 and is now cooldadx4 ....I am currently in a lull for creating but i promise sometime in the near future i will be back to making great things for the sims 2 ! Until then Thank you all for your support





Spongebob Squarepants and Friends !
Date Posted: 20th Apr 2007 at

9:36 PM
I am starting to make some decorative Spongebob and friends statues and the like ...I'm currently started on a Statue of spongebob which will be the first of many other spongebob related items !!!

Spongebob Lawn Gnome - 100% Done and uploaded !!!!
Spongebob On A Pedestal - 100% Complete and uploaded !!!!
Spongebob as a placeable decoration on shelves - 100% done and uploaded !!!
Patrick Star - Soon to be started !!!!!! All phases
Gary the Snail - Lawn Gnome mesh 100% done and uploaded !!!!


Gary on a pedestal - 100% done and uploaded ...
Gary as house deco - soon to be finished !
Spongebob home decor Krusty Krab hat for placement on the spongebob house deco - 99.99% done waiting on some info from a friend !

Here is a preview of gary !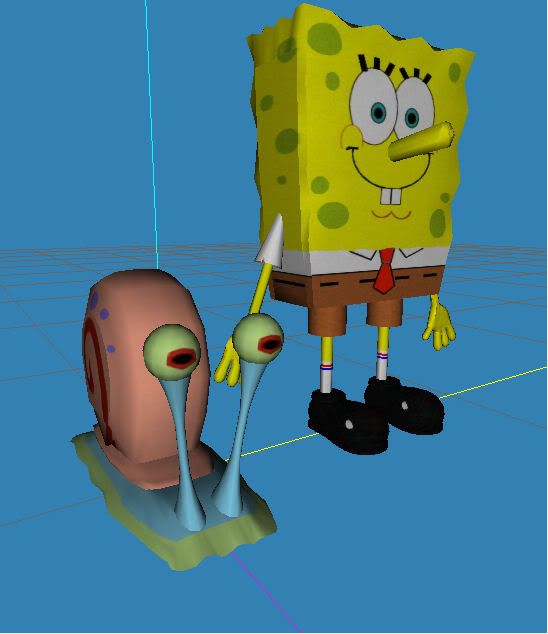 More construction items !!!
Date Posted: 17th Apr 2007 at

6:16 PM
Hey all I am going to start making some more decorative construction items ..This time I will be making some heavy equipment as decorative only to place on construction lots .....

The first is going to be a mini excavator !!! I've got a base mesh that i found for free BUT it needs a LOT of work to be usable in milkshape so dont expect this anytime soon !!!!

Date Posted: 25th Mar 2007 at

8:35 PM
Hey all !

I have quite a few projects I am working on currently ..

Construction Pick-up - Done and uploaded !!!!! You can find that HERE !

Mr Softee Ice Cream Truck - About 10% done !

I also am currently reworking my original Hockey Jersey Mesh to be able to recolor it more easily and UV mapping that is taking forever ... ETA till complete (Unknown) About 25% Done



I also have started a GIANT roller skate as a decorative object to be placed on and near roller rinks (which I currently am building a community roller rink) just waiting to complete the giant roller skate so I can add it ! About 30% Done



I have a community roller rink with dance floor dj booth and bar inside and outside there is a small restaurant so your simmies can fill their hunger while at the rink ! 100% Done



For those wondering about the Porta-potty I had started a while ago and some of you may have seen in the object workshop , well my computer crashed and I think unfortunatly I have lost that project forever

...I made decide to eventually remake it but im so mad about losing it I dont feel like remaking it at this time !


UPDATE !!!!! I have found a copy of my porta-potty !!!! It is about 90% Complete !

I have many , many smaller projects also so as always please keep checking the downloads for all of my creations !


Also I am part of a disney themed creation team !!!!!!



Started parts :

Mulan's House Window - About 50% Done ! Mesh complete , Have to UV Map and then texture ...Also make diagonal ...