Date Posted: 1st Jan 2017 at

5:44 PM
To everyone one on the ModTheSims forum, happy new years. All the best for you in 2017, may that year bring new found prosperity to you and those you know. Thank you all for reading this journal entry and for continuing keep The Sims series alive and well, despite our preferences over those of EA! Still a loyal fan of The Sims 2 iteration of the series.

And now party time!!!!













NCI - Disk Of Karma (Sims 2, Wheel Of Fortune)
Date Posted: 6th Jul 2016 at

4:27 AM
Here's a small segment of a popular TV game show that aired (and still does in a more modern form) in the 1980s. It's on YouTube, and your Sims could probably enjoy having this on their TV sets to watch:


NCI - Monopoly Game Town Contest Over/Done
Date Posted: 14th Apr 2016 at

3:09 AM
See the closing remarks here for details.
NCI - ''The Monopoly Game Town'' Building Contest of 2016
Date Posted: 1st Jan 2016 at

7:52 AM
I have a contest that may be interesting to folks who play The Sims 2. Click the image, or the
LINK HERE
:
NCI - Future ''The Sims 2'' Contest Brewing
Date Posted: 22nd Dec 2015 at

6:51 AM
I'm looking for 5 judges & 2 emergency judges for an upcoming contest I'll be proposing for "The Sims 2" contests forum. It's a contest that will be ongoing for 2 to 3 months. It's for lot builders/decorators. It'll have an interesting element to the competition that hasn't been done before...as far as I'm aware.

I'm still drafting a couple of things, but the contest will be pitched in January 2016. Anybody interested in joining up as judge can let me know in the comments thread.

If you participate as a judge, you will receive a "judging score guide package" through a link in your PM. You get to read it, but must promise to keep the information contained in it secret until the competition is over, or until the host disseminates the information.
NCI - Updated My Avatar, New Superman Uniform
Date Posted: 11th Oct 2015 at

7:03 AM
So it's been a few years that I've used the previous avatar of Superman doing the "Call Me" interaction.
I recently re-did his super-suit and hair-do with something more update. Here's a more detailed look.
Along with a few of the contenders. Similar but not used.
Do you think any of the other contenders would have been a better choice?
Yes...it seems like a rhetorical question, but if anything, I'm open
to comments about other choices for Superman poses.
NCI - Coming Soon (for your Sims 2 PC game)
NCI - Wheel Of Fortune 1981 Puzzleboard
Date Posted: 19th Jul 2015 at

10:28 PM
Yes...another game show project. But this time something more functional. It's still in the works, and may even be the first one uploaded to the website. Quite ironic, since the very first one I was working on was Jeopardy. That's still on the list of things to make. It'll be done...one day, hopefully. In the mean time, here's a YouTube video of the puzzle board. See if you can solve the puzzle before reaching the end of the video.

The upload will feature the board, lights, and over 30 trilons for each of the alphabet and some symbols. I do not plan on making a rotating wheel, as I have no idea how to create a random rotation in the game.

EDIT: And here it is, in case anyone is interested in seeing and downloading.
NCI - NEW UPDATE for The Golden Wall of Animation
Date Posted: 27th May 2015 at

8:44 PM


Hi folks,

I had some free time on my hands, and succeeded in reworking my Golden Wall of Animation. It can now act as slots for the pose box cartridges! No more moving 19 pieces of objects at a time, now move only the wall!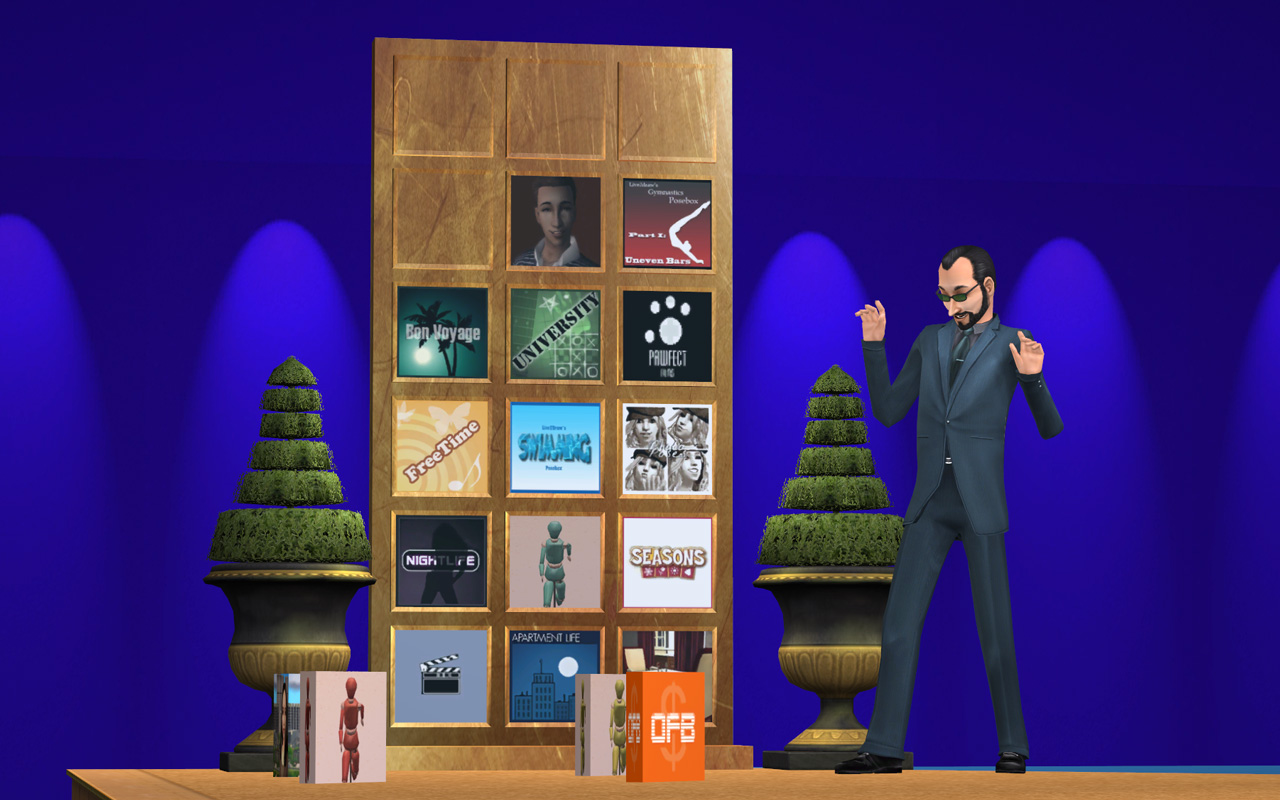 Please re-download for your convenience. The new files use the same GUID numbers as the previous versions.



Also, if you're a pose box creator, and would like to have your pose box compatible with the wall, I provided a template file called "NCI-BoxTemplate.rar" in the same downloads thread. Use that to redistribute wherever you are on the Internet.
NCI - Added new banner to my uploads
Date Posted: 24th Jul 2014 at

5:35 AM
Since Imageshack stopped becoming free indefinitely, I thought I'd use my website's disk space to upload my newest banner for July 2014 onwards. This is it, the acronym for NCI from all my uploaded threads. Much nicer and colourful, I'd say, compared to the light blue/grey scheme. Wished I'd be able to have a banner that can automatically be added to my downloads. But it seems only Featured Creators with trophies get that: