As an extension for the popular Sims 2 Superman costume from NCI, we now present a special addition for you and your Sim's reading pleasure. Introducing, a game magazine replacement! Namely, a Superman comic book.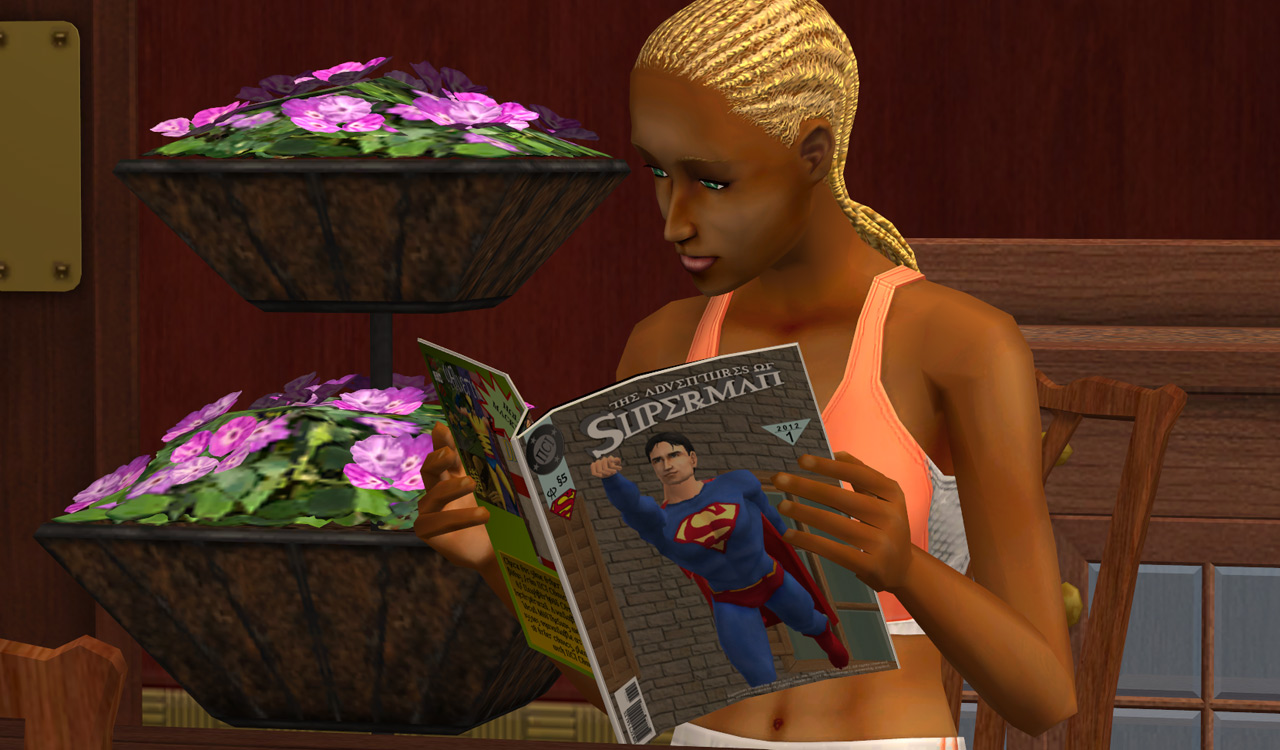 This comic book is fun to read, especially for your Sims who're into anime, comics, and gaming.
In this first issue, Superman saves the day for a damsel in distress. What else can be said, lol. Read the suspenseful adventure by subscribing to the Games Magazine from your Sims 2 FreeTime expansion pack. The magazine comes every Saturday morning alongside your newspaper.
Also, if you'd like to read more issues of this comic strip, feel free to do so with our
FIRST ISSUE
out of 25.
NOTE: This magazine replaces your Games Magazine's images, and cannot be combined with other Games Magazine replacements. To view this comic book, you must first remove previous Games Magazine overriding replacements, and then place this download in your Sims 2 Downloads folder. If you have never downloaded a Games Magazine replacement, then simply download this comic book, and place it in your Sims 2 Downloads folder, as you would with other game downloads.
______________________________________________________________________

NCI Download Policies for this thread of (February 3, 2012) regarding:

1. PERSONAL and PRIVATE USE
You may use this download in your game however you wish. Enjoy it & if you feel like it, give feedback on how it works. Do not make money off of this creation.

2. PUBLIC DISTRIBUTION
Do not upload this creation onto other websites. Instead, please link back to this download thread from your website.

3. CONVERSIONS and REMIXES
If you wish to convert or remix this creation for use in other games, please contact me by private message or e-mail for an arrangement on what you'd like to do with this creation.

4. FUTURE on RETIREMENT or INACTIVITY
This policy will supersede the above policies with condition to the following order, whichever event occurs first:
a. You may redistribute/remix this download anyway you'd like (with the condition that you credit me for the original download) after 5 years of the date listed in this policy, OR
b. You may redistribute/remix this download anyway you'd like (with the condition that you credit me for the original download) in case I become inactive after 2 years of the Last Activity date listed in my profile.
If neither conditions occur, then the above policies remain in effect.
______________________________________________________________________
Additional Credits:
"The Adventures of Superman" is a DC Comics book publishing, (c) 1938-2016. This specific Sims 2 version created by d_dgjdhh, made in 2012. No challenge to ownership implied.