Picket Fences! Part 1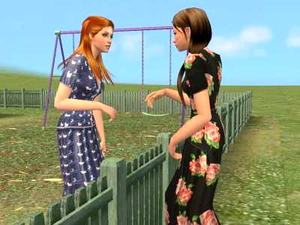 Buford Falls was just like any other small town in the South in the late 1940's. The houses were nice, but not by any means the most expensive. When our story begins, there's five houses on Shadetree Lane. That's Joy Anderson and her best friend Mary Lou Edwards gossiping over the picket fence that seperates their lots.
Joy lives in this white frame house with a green picket fence. She''s been living here since she and her husband Larry got married.
Joy and Larry both grew up in Buford Falls and got married right after they graduated from high school. They have a six year old daughter named Arlene.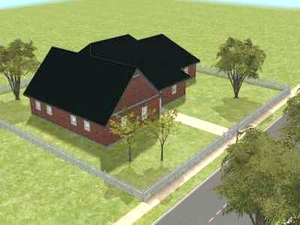 Mary Lou lives next door in this red brick house with a white picket fence. She's been living here for six years. Mary Lou and her husband Peter have been living in Buford Falls all their lives. They got married a year after they graduated from high school.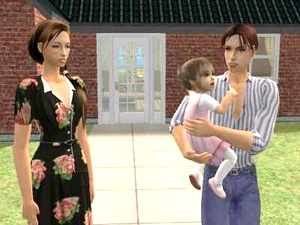 Mary Lou and Peter have a three year old daughter named Julie.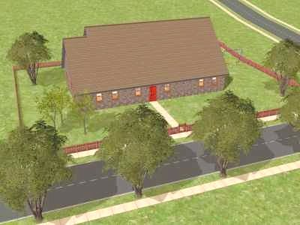 This house with the brown siding and a brown picket fence is on the other side of Joy's house.
Ben and Betty Jones are the neighbors who live here. Like Joy and Larry, Betty and Ben got married right after high school. They have a six year old daughter named Judy and two year old son named Mike.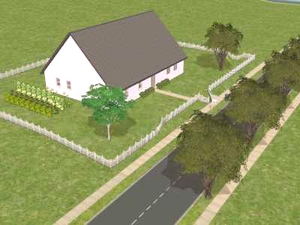 There's another white frame house with a white picket fence across the street where neighbors Emily and Sam Martin live.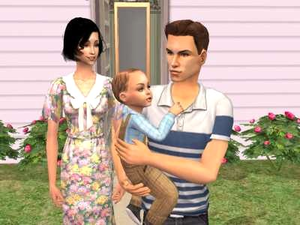 Emily and Sam moved from Veronaville to Buford Falls a little over a year ago. They have been married three years and have a son Jimmy who is almost two year's old.
The white frame house next door to the Martin's had been empty since elderly Grace Sawyer died last year. The neighbors on Shadetree Lane have been waiting and wondering what was to become of the house. Grace was an old maid and had no relatives that anyone knew about.
Then one day the waiting and wondering was over when he moved in . . .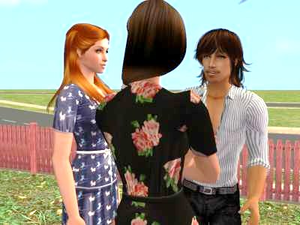 Joy and Mary Lou hurried across the street to greet their new neighbor. His name is Rhys Sawyer and he's from Pleasantview. He says he's Grace's grandson but as far as anyone knows, she didn't have any childern. Or did she?
To Be Continued . . .